The group Staelens is a diverse family enterprise active in several sectors, of which transport has become a major activity in the recent years.
It all started with a farm that is still very active today.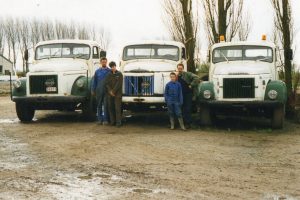 Transport began on a small scale in 2000 for local distribution but grew to answer the high demand. As a result of this Transport Staelens SPRL was established in 2005.
Today, our fleet consists of more than 100 vehicles, all vehicles types combined , providing services for the diverse transport needs of more than 80 clients.
The maintenance and repair of all our vehicles are done at our own independent service station.
Answering the need of provide better services for northern France, in 2016 we also developed a parking in Blandain, located 2 minutes from the French border.
Yet, despite its rapid growth Group Staelens is still exclusively family based in its administrative staff and management, thus ensuring our dedicated and client centric approach.